Paul & Joyce (age 77-ish), Swanville, Maine:
From a thank you note... "Just a special thanks for being so nice to a couple of old timers. You're a great host and we really appreciate all that you did for us. Thanks again."

Paul in Boise, Idaho:


I have known Mike for nearly 30 years, and in that time we have deposited many incredible adventures into our memory banks! In all of my years of knowing Mike, several things have always impressed me about him that should be important to you in choosing a guide for your Great White Adventure.

1. Mike and I served together in the U.S. Air Force, in the Air Rescue business. Meticulous planning, with an emphasis on personal and equipment safety, was always paramount on every flight, whether it was training, or a real world mission. Mike was never one to rely on good luck verses good planning. The devil is in the details, and Mike has always been extremely motivated to find the right item, location, tool, sled, flight, route etc… See where I am going here? Mike is meticulous in his attention to detail (even the smallest) in all things that he does. The great thing about this level of detail is that it always insured the best possible outcome of the trip. I never worried about a mission or sled ride in the Black Hills of South Dakota as long as Mike did the planning.

2. Adventure is the reason for the season. Whether it was powder busting in the Black Hills, following the elk in Idaho, or a wild weekend of wake boarding in Texas, Mike was always up for exploring whatever was out there and taking a detour to see what is just over the hill, or around the next bend. This was usually the best part! Whether you are on group ride on groomed trails or blazing your own in virgin powder, Mike is always the guy to lead the way to bigger adventures and more fun!

3. Honesty, integrity, disciplined and fair. As I stated earlier, I had the great fortune to serve with Mike and I can tell you that he is one of the most honest men I know. His service in the military and as part of U.S. Customs exemplifies his commitment to service, and personal integrity. When Mike shakes your hand and looks you in the eye, you know you can take it to the bank!

4. Mike has visited just about every state that has sledding to investigate which has the best snow, the best trails, the best accommodations, the best access, and with plenty of entertainment opportunities during a great day's ride. You can believe that the package Mike has put together is absolutely the best bang for the buck, and will undoubtedly leave you wanting to come back year after year with family, friends and co-workers!

Mike and Paul, sledding in McCall, Idaho: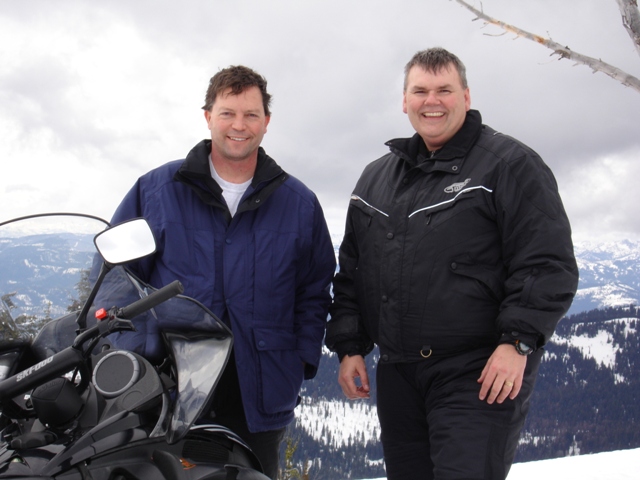 Colleen in Shapleigh, Maine:

My husband introduced me to Mike over 30 years ago and I was instantly taken to him. I find him to be hard-working, detail oriented, adventurous, and deeply committed to friends and family. So when he phoned and told us of his idea to package snowmobile trips to Maine, my husband and I were eager to help him in any way we could. In this case, we were his first participants.

Riding in the Kennebec River and Moose River valleys, and in the mountains surrounding them, is a favorite pastime of both Maine's visiting, and resident, snowmobilers. Snowfall is measured in feet most of the season, and groomers tend to trails nightly. Those trails go on forever, leading to breath-taking waterfalls, scenic vistas, wildlife sightings and some of the best home-cooked food you'll ever eat.

With maps in hand, Mike planned trips all over the area, taking into account the length of time riding, weather conditions, and hunger pains. He is a patient leader who provided the opportunity to take in the scenery and enjoy "quiet" moments in harmony with nature, pointing out animal signs that might otherwise have been overlooked, as well as ample time to just squeeze the throttle and let 'er rip!


Our destinations were as varied as the people we met on the trails. Some days we headed to a particular town and scoped out the restaurants and businesses there, other times we just enjoyed the ride and went for distance. Whether in town, or out in the thick of the forest, there were always secret treasures Mike led us to. A gifted conversationalist, Mike is skilled at breaking the ice and you find yourself feeling relaxed and comfortable in his presence.


The businesses Mike has chosen have been catering to snowmobilers for years and Mike has found reliable, honest suppliers of both machines and equipment. His own life experiences have prepared him for handling mishaps on the trail, whether you are just stuck in deep snow, or experience some sort of mechanical issue. Dress on the trails is not for appearance, but rather for warmth, and rental clothing is offered with that in mind.


Pack your camera and binoculars. Bring layers of clothing to keep in your body heat- or let it out when the day is over. Get in touch with Mike and make a plan to spend a week in Winter Wonderland. Let him do the work so you can just enjoy the ride!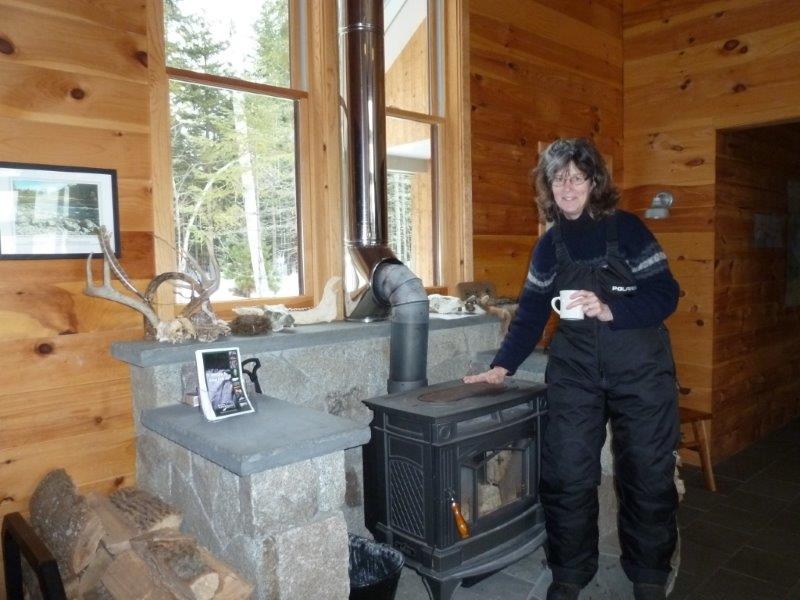 Colleen at the Grand Falls Ski Hut.
Serving customers from Maine, New Hampshire, Vermont, New York, Pennsylvania, all of New England, as well as the entire U.S. who seek Maine's finest snowmobiling in the greater Jackman, Rangeley, Greenville, and Moosehead Lake area of Western Maine.