A "snowmobile" aka "snow machine" aka "sled" is easy to drive. Newcomers to the sport quickly become comfortable with maneuvering our sleds along Maine's finely machine-groomed trails. Within a day or two, you will probably even find yourself ready to ride off the groomed trails and boondock through the forests with your guide.

Riders straddle a very comfortable, wide, softly padded seat with steering handle bars similar to a bicycle. You'll tuck your feet forward into recesses that keep them out of the wind and provide some warmth from the adjacent engine. There are no hot metal exposed surfaces like on some motorcycles. You don't need balance and you don't need strength. Getting the picture? It isn't your living room recliner, but it IS quite comfortable and very easy to operate, particularly when you consider what this finely engineered machine is about to do for you- unlock the wilderness and deposit memories into your memory bank that will stay there for a lifetime.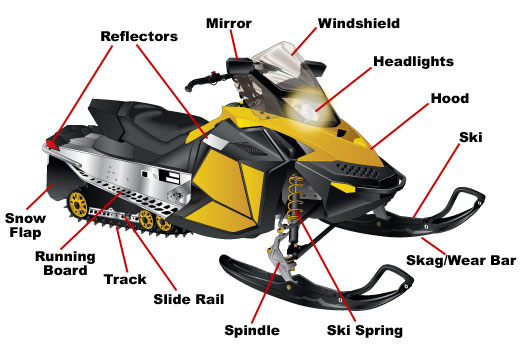 Controlling your speed is accomplished by simply pressing the throttle lever with your right thumb. A second lever can be squeezed with your left fingers to brake, but you will only use it a couple of times each day since the sled gently decelerates after simply easing off the throttle lever.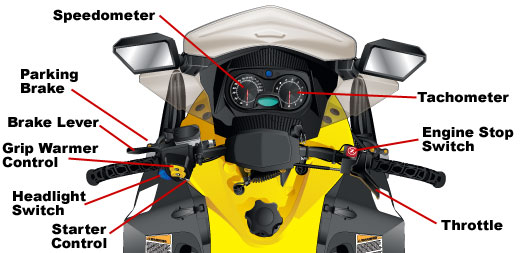 The handle bars and throttle are electrically heated to two levels, but the "low" setting is generally sufficient to keep your hands warm when wearing the high-tech snowmobile mittens that I will provide for you (although sled rental outfitters generally do not). It really is as simple as thumb pressure to accelerate, or releasing thumb pressure to stop.

You do not have to change gears, nor operate a clutch. There is a reverse lever, but it is rarely used. Steering is accomplished via very strong plastic skis slipping through the snow-- the handle bars don't offer much more resistance than the power steering in your car.